A garage is usually a pretty mundane room that doesn't seem that interesting or versatile. However, if you have a large enough garage at your disposal. It may be transformed into something more useful and more fun than a simple room to store a vehicle.
A workshop or a game room can be a great addition to your home. Not just in terms of increasing your enjoyment, but in adding new and greater value to the house. These changes can be brought in gradually and don't have to cost that much. Especially if you know what you want to make.
A clean-up
It may seem like a simple step but you'll be surprised. As to how much it means to thoroughly clean the garage before you begin working on and in it. Start by throwing away everything you don't actually use. This can be a way to earn some extra money for the needed repairs if you decide to sell the items that can still be used.
A fresh coat of paint is a great way to put a finish on a good cleaning job and to make sure that your garage is a decent place to spend time and work in.
Workbench
A workbench is the central part of the workshop and it should hold a special place in your garage as well.  The key to a workbench design is to know what you plan to use the garage for and to design it by anticipating the needs that you might encounter.
This is also a good time to consider the shelving options. Because placing the tools that you plan to use often near the workbench. That can make day-to-day tasks easier, safer and better organize.
Floors
Floors usually don't get enough attention when it comes to remodeling and that's a mistake. Choosing the right floors will make the garage workshop safer and easier to use. But it can also help in creating its aesthetic. Floors are, after all, the largest part of your garage and by choosing a floor that you enjoy. You can transform the whole garage.
Consider using some sort of soft materials for the floors in order to prevent injuries that sometimes occur in workshops. If you have the option to do so, installing floor heating can mean that you can use the garage even during harsh winters.
Clean air
One of the most common ways to use a spare garage is to create a small workshop in which you will most likely work with wood. This presents a problem because garages aren't really made for this type of work and woodworking can cause numerous health issues related to polluted and unhealthy air quality.
The easiest way to solve the problem is to have enough windows. That you can keep open during the work, but this isn't an option for most garages. In these cases. You should try to invest in an air purifier. That will meet your needs based on the type of wood you're working with and how many hours you plan to put in.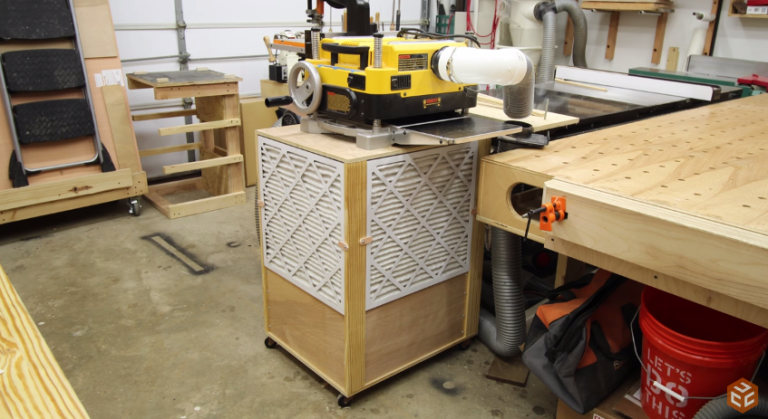 A garage can be easily transformed into a useful workshop. This adds to the value of your home and provides you with a place to try out new hobbies and enjoy your free time.
By Amelia Atkins