Now that the summer is right around the corner and high temperatures start to call for a little cool-off, you might be interested in checking out some new pool trends that will keep people fresh and comfortable in 2018. Here's what's new and interesting on the swimming pool scene!
Infinity pools
If you're blessed to have an elevated backyard with a beautiful view, you must not miss an opportunity to invest in an infinity pool! Even though these pools usually carry a big price tag, they are definitely worth it. Wet edges and spillovers look amazing and offer a unique bathing experience. They also look very contemporary and are a great way to connect the space. Plus, all the debris that collects on the surface will spill over to a lower tank and leave you with a perpetually clean water surface.
Small pools
Many people today can't afford homes with a lot of outdoor space for a huge pool. However, that doesn't mean they can't still enjoy a nice cool-off during a hot day! There are great smaller pools that take up very little space—7m x 3m x 1.5m is all you need for a great soaking experience! Smaller pools are very easy to install. What you need for a small pool installation is a few expert installers and your pool will be ready in no time! Tiny pools are also super cheap and can look amazing when surrounded with layered lighting and plenty of greenery.
Timeless look
Some time ago, people wanted to create a personalized pool that would show off their unique style, but today the situation is a bit different. More and more people are aiming to create a timeless and elegant look with a touch of contemporary design. Think a lot of minimalist concrete or simple grey limestone pools that will stay beautiful and lux for a long time.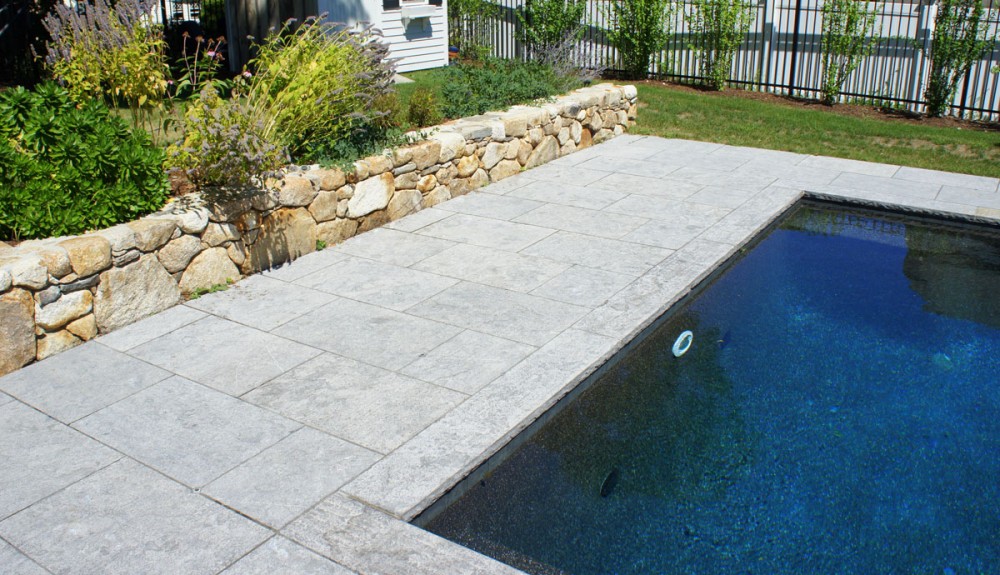 Bold tiling
On the other hand, if you love to be loud with the way you dress, look and live, you'll love this bold pool trend—extremely dark, almost black tiles or completely white tiles! If you want to add some lux elegance to your backyard, black tiles might be just what you need. They will make your pool really stand out and attract the attention of everyone that comes to visit. However, if you want to achieve a very natural and clear water color and boost relaxation in your pool, you might want to check out all-white tiles.
Lounging ledges
If you want to chill in your pool, cool off and catch some sun at the same time, you might want to add some lounging ledges to your pool this year. Think lifted areas for sunbathing or shallow areas for relaxation and safe splashing in the water! These lounging areas are very practical and kid-friendly, but also add visual interest to your pool.
By Amelia Atkins